Coffee & Crawlers
Coffee and Crawlers is a recurring event that takes place on the second Saturday of each month at Desert Rat Off Road Centers in Tempe, AZ. Our gathering caters to the off-road enthusiast community. Our primary mission is to create a welcoming and engaging space where off roaders can come together to connect, share their common experiences, discuss trail insights and stay up to date on the latest trends and happenings in our community.

Here's what you can expect at Coffee and Crawlers: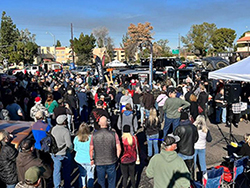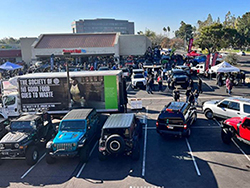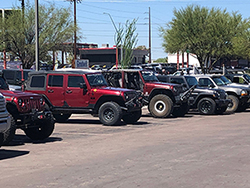 Breakfast: Kickstart your day with our complimentary coffee and delicious donuts.
Raffle: Enjoy the excitement of our free raffle. Win cool swag, gift cards and off road products.
Community Building: Coffee and Crawlers functions as a central hub for off-road aficionados to forge connections, engage in meaningful interactions, and establish enduring relationships with kindred spirits who share their unwavering passion for the off-road lifestyle.
Vehicle Showcase: Attendees can eagerly anticipate a captivating exhibition of extraordinary off-road vehicles, offering a diverse spectrum of makes, models, and awe-inspiring modifications.
Club Discoveries: For those with an interest in joining local off-road clubs, this event presents a prime opportunity to explore and connect with the vibrant array of clubs in the area, each boasting its distinct offerings and thrilling off-road adventures.
Expert Insights: Our event is graced by industry experts who generously share their invaluable insights and knowledge on various off-road facets, including techniques, vehicle maintenance, and safety practices, equipping attendees to enhance their off-road experiences.
Community Training: Be sure to follow us on social media for updates on special themed events, such as winching and recovery training, Stop the Bleed first aid classes, food drives, and our colossal Christmas toy drive in collaboration with the Maricopa County Sheriff's Office, contributing to the well-being of our community.
Product Showcase: Coffee and Crawlers provides a distinguished platform for aftermarket parts manufacturers to unveil their latest products and innovations, ensuring that attendees remain well-informed about the cutting-edge advancements in off-road equipment and gear.
Entertainment: Beyond the wealth of information and networking opportunities, our event promises a delightful time for all, with a range of entertainment options, engaging activities, and the chance to socialize with fellow off-road enthusiasts.

For the latest updates and to stay informed about Desert Rat's upcoming Coffee and Crawlers events, sign up for our newsletter and don't forget to visit our Facebook page at www.facebook.com/desertratoffroad or on Instagram at www.instagram.com/desertratoffroad

Join us at Desert Rat in Tempe, AZ, on the second Saturday of each month to be a part of this dynamic and thrilling off-road community. We're excited to welcome you there!